Best Ice Delivery Services in Fort Worth, TX!
Emergency Ice provides high-quality, crystal clear ice delivery to the patrons of Fort Worth and its surrounding cities, from Arlington to McKinney and the rest of the Dallas-Fort Worth area. Our ice delivery company has served the needs of Fort Worth bars, restaurants, events, and more since the 1970s, and we pride ourselves on our reliability, timeliness, and top-notch customer service!
Ice Delivery Services for Businesses & Special Events
Emergency Ice delivery service is based on quick response, crystal-clear ice, and highest-level of ice delivery service in Fort Worth, Texas. We'll deliver ice to your location 24 hours a day, 7 days a week, and our "icemen" are guaranteed to have a smile on their face when they do it!
In the hot North Texas climate, ice is a crucial component of successful events, and for our commercial ice delivery customers including restaurants and bars. Liquids and other things need ice to keep temperatures down and customer's spirits high. Emergency Ice has you covered. We have our ice delivery system down cold; just ask our clients with big ice requirements, including but not limited to:
Bakeries
Catering
Clubs
Concrete Companies
Construction Sites
Conventions
Events
Festivals
Hotels
Produce
Restaurants
Vendors
Got A Big Ice Delivery Order? Big Deal!
No job is too big for us to handle! Emergency Ice can produce up to 500 tons of ice, daily! We have been serving Fort Worth customers for over 35 years. Emergency Ice has developed an unmatched level of experience and skill at providing ice to our clients on time, every time. We've mastered ice delivery, and we provide the right amount of ice to chill out the stress of any event organizer. No demand for ice is too big for Emergency Ice!
Ice Products We Offer To Our Clients in Fort Worth, TX:
10 lb packages
20 lb packages
300-lb Carving blocks
Cocktail ice (35-lb packages)
Concrete ice
Dry ice by the pound
Ice sculptures
Packaged ice
Snow ice (35-lb packages)
Snow for snow parties
Ice Delivery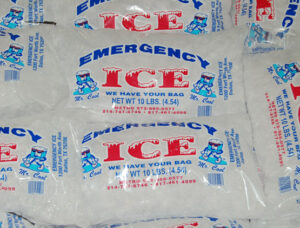 As you can see, we don't just deliver bags of ice, but a guaranteed way to keep your party interesting and cool, literally and figuratively. Our Fort Worth ice delivery team is equipped with hand-held invoice devices and trucks stocked and ready to deliver ice anywhere in Fort Worth, 24/7.
How much ice will you need for your event? Use our event ice calculator to find out exactly how much ice you will need. Emergency Ice can deliver for Fort Worth events of all sizes up, from hundreds of thousands of people — PGA tournaments, Red Bull events, college sports, arts, and music festivals, and much more. We staff your event with experienced, skilled, and friendly service.
One-Hour Ice Delivery Services Is Our Specialty!
Emergency Ice is standing by to provide:
Trucks – 8 ft, 14 ft, 20 ft, and 24 ft storage capacity (up to 20,000 lb. capacity)
50 ft Semi Trailers – (38,500 lb. storage capacity)
Special Event Wagons – (3,850 lb. storage capacity)
Ice Merchandisers – (2,000 lb. capacity)