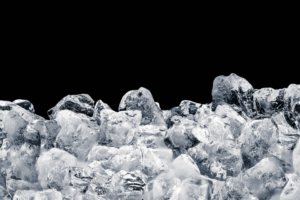 Ice might not last that long when it's not in a freezer, but there are still plenty of ways you can use your bagged ice for fun activities this spring.
If you and your friends need a little fun away from the sun in the warmer months, try out these five ways to enjoy beating the heat with a little ice.
1. Make a Simple Ice Sculpture
Break out the winter gloves and use your bagged ice cubes to create buildings and sculptures. You can use any simple dish or pan that you have in the kitchen as a container for the ice sculpture, and the cubes should last long enough to create some awesome buildings before they melt.
You can also create colored cubes by adding food coloring to the ice when you make the cubes. Just a few drops of food coloring should create some awesomely colored cubes. Make sure that you have some containers on hand to hold the ice cubes, so the colors don't melt all over your tables.
2. Create a Lighted Frozen Ice Balloon
You can create an amazing "ice luminary" with just a few ingredients. You'll need:
Balloons
Water
Scissors
Tea Light Candles
A Container for Your Ingredients
Simply fill the balloons with water and then place the balloons in the freezer overnight.
The next day, cut the balloon off the frozen ice ball. Then, balance the ice ball on top of the tea light, and you'll see an amazing glow emanate from the ice ball. You can also use a wide-mouthed cup in which to place the tea light with the ice ball balanced on top to create a lantern effect.
3. Paint Ice Cubes
If you have young children and some extra bagged ice, you can try painting your ice cubes. It doesn't require a lot of finesse, and the result can look amazing if you use the right colors. All you have to do is put the ice in a large plastic container and paint the cubes with your brushes.
You can create a learning experience out of the activity by asking the children to identify the colors they're using. You can also teach older kids about primary and secondary colors and how mixing certain colors together can make new colors.
4. Make Miniature Snowmen
Shaved ice makes amazing "sno-cones," and it's also great for making tiny snowmen. Stop by a craft store and get some tiny implements for snowmen like pipe cleaners for arms and buttons for eyes.
Winter is one of the most magical times of the year because of all the different holidays and the decorations that hang everywhere. Making tiny snowmen is a great way to relive the fun of the holidays even when winter is long gone.
5. Make an Ice Volcano
If you're not worried about making a mess, you might want to try making an ice volcano. With some water, baking soda, and vinegar, you can make volcanoes. If you want to get creative, you can add some food coloring to the mixture before you freeze it, so your volcanoes will erupt in all sorts of cool colors.
Fair warning on making the volcanoes: You may want to have them erupt outside because they can get rather messy.
Get a Cool Start to Spring with Emergency Ice
Are you planning a party this spring that will require bagged ice? Emergency Ice offers the best in Dallas and Fort Worth dry ice delivery, ice cubes, and all sorts of ice products for your home, gathering, business, or event.
Contact us today to learn more about our services or to schedule your ice delivery!